The following are Spirit Cards I received during several Spirit Card sessions with Rev. Hoyt Robinette.
I am exploring the creation of these cards. In meditation groups, spirit wrote the number "17" on a card (see below) and the number "4" on a card. Both for women who were in the group at that time.
These cards are drawn by spirit during a group session with Rev. Hoyt Robinette. Rev. Robinette is blindfolded and before him is a basket with blank cards and numerous drawing utensils in it. As he does readings for the people in the room, one or more of that person's guides place their picture on the card along with many names on the back of the card. When the readings are over, the box is opened and the following cards are in there.
You can watch a video of me here where I explain Spirit Cards and the process.
Here are mine:
---
My joy guide, Daisy
This is the back of Daisy's card. My first one with Rev. Robinette. For some reason, they weren't able to understand, my actual name was not on the back. I know no one on this card. I now believe when there is only a first name, that it is someone I've known in this life. I am looking for 'Terry. ' Sri Babaji was acknowledged as Shiva Mahavatar Babaji, the eternal manifestation of God in human form. A little humbled by this one.
UPDATE 2014: As I attended more of these, it was a common occurrence for someone's first card to be a little 'off.'
UPDATE 2015: I'm finding some very interesting synchronicities with Babaji and Mr. Lincoln. Stay tuned!
---
Chief Cochise, my Master Teacher
The back of Chief Cochise's card. Blue Cloud, my protector guide (below), appears and Shah Jahan, the Mughal emperor of India (1628–58) and builder of the Taj Mahal, appeared for the first time. Needless to say, I am very honored to have him as one of my guides (I later found out he was my Alchemist Guide during a meditation).
I now know that our guides find us based on things we have in common or share during both our lifetimes. Anne Frank appeared for the first time. She also appeared in a reading I did with the Rev. Justin Terry.
---
Blue Cloud, my Native American Protector Guide. During the reading, Rev. Hoyt said that Blue Cloud was 'putting his picture on the card for me.'
The back of Blue Cloud's card. Chief Cochise and Shah Jahan appear again for me. Gary Boyle is my ex brother-in-law and Gene Boyle is my ex father-in-law. The name "Jim" I didn't know right away until my friend and medium, Diane Roadcap, mentioned 'maple sugar'. I realized it was a good friend's ex-husband who passed away unexpectedly about a year ago.
When I sent my friend the image of the card she knew for sure it was Jim. She said everyone who knows him, knows he signs his name as 'JEM'. You can see by the card that he started to sign it that way and then changed it to 'JIM'.  Why? Because I wouldn't have known who that was...had I seen 'JEM'.
Pretty powerful stuff.
---
This is the picture for my daughter, Carly, who was with me during the last session with Rev. Robinette. A few months after, while sitting with my Mother and Carly, she showed my mom her picture from her iPhone. As we passed the phone around between us, another face appeared on her card. This picture was my Grandmother. Her name is on the back of Carly's card. That face seemed to change in front of our eyes as the day progressed and this is what it looks like at the present time.
Carly's original card, before the change and as it appears in real life today.
Carly's card with the new face that appeared on the picture on her iPhone. It appears to be my Grandmother. It was very clear the first hour, then it started to fade to what it is right now.
_________________________________________________
The number 17. This appeared as I practiced this form of physical manifestation with a group of friends. Still working on it. Will keep you posted.
_________________________________________________
May 2013
2 Spirit Card Circles with Rev.Hoyt Robinette
This is an interesting card. The prince on the right is Shah Jahan, who has put his name on many of cards from the spirit card circles I've been to. If you google Shah Jahan, you will see the resemblance. I am very moved by this man. He is my Alchemist Guide. He is the one responsible for altering my DNA. I work with him often. He told me I was his wife. She died in childbirth. There is a great love and passion about him.
The woman in the middle, Princess Laura. I don't know for sure who this is. Notice the heart in the picture right where her heart would be. I think this may be Princess Laura Auberjonois. "Princess Laure Louise Napoléone Eugénie Caroline Murat (1913-1986), was a great-great granddaughter of Joachim Murat, one of Napoleon's marshals and King of Naples during the First French Empire, and his wife Caroline Bonaparte, Napoleon's youngest sister." Wiki
The gentlemen with the beard is Dr. Vilicki, my Doctor Teacher. He told me the night after this card who he was when I asked during the card circle. He is wise and I look forward to hearing more from him. One of his famous lines is "The times they are a changing." And, "There are many holes opening."
Jerry Hicks, an outer band guide, who I've had many lifetimes with.  Anso Bergonzi, my dad. Chief Cochise, my Master Teacher. Anne Frank, an outer band guide.  Blue Cloud, my protector. Dr. Bogart I am not familiar with as of yet.
UPDATE: Over the summer of 2016, I was at The Vibrant Health Institute in Michigan and when I showed this card to one of the other team members, she mentioned something interesting about this card and led us down a rabbit hole and we figured out who Dr. Bogart is. He is Humphrey Bogart's father. One of my other cards, we think, has a picture of Humphrey Bogart as a teen. I cannot confirm or deny this one yet, but I'm almost sure. 🙂
_________________________________________________
I don't know who either of these gentlemen are. Do you see the animal face in the middle?
Shah Jahan, (my Alchemist).  Killian Falivene, (my cousin's german shepherd), who I'd been living with for four years. Anne Frank. Chief Cochise. Blue Cloud, my protector, and Jerry Hicks, an outer band guide.
---
November, 2013
2 Spirit Card Circles with Rev. Hoyt Robinette
This is Dr. Lambreti. He is with me to help with my physical mediumship. He is an outer band guide.
This is the back of Dr. Lambreti's card. Sri Babaji has come through often on the back of my cards, but so far, I have not heard him speak to me. Anne Frank...well we know what that's for. Daisy, my joy guide. Shah Jahan, my Alchemist. Chief Cochise, my master teacher. Blue Cloud, my protector. Dad, my dad. Dr. Lambreti. His name was written as Dr. Lambreci on Friday night. Saturday night I was told by Spirit, that it was incorrect. Now you can see how crazy the inside of that box is and how many spirits are in the room as Rev. Hoyt tries to speak everyone's loved ones and guides! Last, but not least, is Abraham, Ascended Master.
---
This is from the second night of card circles with Hoyt from November, 2013. Dr. Lambreti at an older age. Rabbi Isaac Luria (the smaller face in the right corner), is someone I am now channeling (confirmation came from Israel and Rev. Hoyt. I have had this confirmed in the most obscure way!!). The likeness in the left corner? I have no idea as of yet.
This is the back of the second card I received from Rev. Hoyt in Nov, 2013. Kathy Hadden, the wife of the vet that my daughter worked for in VT. The name is spelled incorrectly. Of course! Have you ever tried to write names of people when everyone is yelling at you? And then to have to spell all those names correctly!? LOL. Abraham, ascended master. Shah Jahan, my alchemist. Anso Bergonzi, my dad. Sri Babaji. Gary Boyle, ex brother-in-law. Blue Cloud, my protector. Daisy, my joy guide. Aldo Bergonzi, my uncle. Dr. Lambreti, my physical mediumship helper.
---
April, 2014
2 Card Circles with Rev. Hoyt.
Front of Friday night's card.
This is Friday night's card. Dr. Vilicki. During the circle, here is what was said. Again, we are only allowed to take notes at these. The spirits that came through by name were: Pres Lincoln, Arch Angel Metatron, Blue Cloud, Dr. Vilicki, Sai Baba, Sha Jahan, Master Abraham (Abraham-Hicks), Moose (Dad), Issac Luria, Jerry Hicks. Issac Lura spoke, "I am still teaching you and happy to be able to, not finished. I want to make an example, not to fear, that we do have certain guidelines, to spiritually keep you in line. Even here there's a certain order." Lizzie Bangs chimed in with, "They are strict too."
Issac Luria again (I think), "Putting not the pedal, put the paddle to the metal, to push you spiritually."  This response was in answer to the question on my card for this night. It was, "What is the paddle in the picture from one of the other card circles?"  If you scroll above to the one with the young man's profile in it, right next to the young man's face on the card is a paddle, like an oar from a boat. I have no idea who these gentlemen are. I have a suspicion that the young man is Jerry Hicks, but I cannot confirm that as of today (9.12.14).  And what they said that night was in response to that question, but they never answer the question. Spirit is fun like that!
Blue Cloud, Chief Cochise, Daisy, Sri Babaji, Dr. Vilicki, Shah Jahan, Bangs Sisters (helping with physical mediumship. These two are from Camp Chesterfield--back in the day). This card has all my inner band guides listed.
---
Saturday night's card.
Front of Saturday night's card. St. Catherine and Jesus. There's a great story behind this one. This was the second night of card circles.  The first night my question wasn't answered. Spirit clearly has other plans for me and they want me to know what THEY want me to know. I'm good with that. 🙂  On Saturday night, I don't even remember my question. In the previous private reading I did with Rev. Hoyt last October, he told me I would be channeling a female Ascended Master or someone like that. He didn't know who it would be and Spirit was not telling him that. All I could think was, "Huh? Another spirit I am going to channel?" Again, I'm OK with all of this.
So on this Saturday night, Rev Hoyt, again doesn't answer my question, but goes on to speak from St. Catherine. Unfortunately, these nights, you can no longer record them, so I have notes that were taken by people around me. The spirit's that came through by name were:  Master Abraham (of Abraham-Hicks), Moose (my Dad), Abraham Lincoln, Israel (my interpreter guide), Daisy (joy guide), Isaac Luria (Rabbi who I will be channeling also from the 1500's. He actually came to another person that night), Jerry Hicks, Archangel Metatron, Mother Mary (Rev. Hoyt, during a private reading, informed me of her presence in my life), Sai Baba and St. Catherine. St. Catherine said, "You are surprise. I am here to help you. I have a great deal of energy to give you for your spiritual work. I'm going to bring my mission through you. You will start soon. Look me up to help with your mission."  Yea, so that happened!  And my mouth remained open through this whole message.
The following Monday was the feast of St. Catherine. Yes, that's right. Just another confirmation. My mother was completely astounded by all of this and on Sunday night I got a call from her. There was a special on St. Catherine on TV. I found what she was watching. Let me preface this by, I searched the internet for the symbol of Jesus and the lily. They are St. Catherine's symbols. But no where online did I find this specific picture that was on my spirit card  As I was watching the program on TV, at the end, they flashed this EXACT picture! I called my mom and asked her if she saw that? All she could say was, " I have to go now."  Yep, that happened too.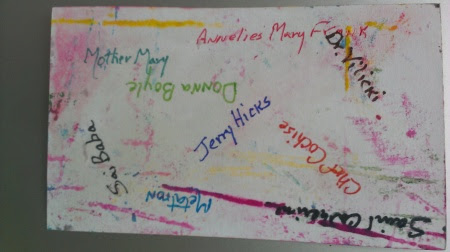 Back of St. Catherine's card.  Mother Mary (who was confirmed during my private ready with Rev. Hoyt), Dr. Vilicki (My Dr. Teacher), Jerry Hicks, Sai Baba (His name has come up in many readings. This is the first time he's put a name on the card. I believe it was because I had been questioning whether Sri Babaji - whom I've had on many cards- and Sai Baba were one in the same. Clearly the answer is no), Archangel Metatron (I've had a few channeled messages from him), Chief Cochise (my Master Teacher), Metatron (Archangel), Saint Catherine, and Annalies Mary Frank. This is cool. This is the first time she wrote her given name. Guess she wanted me to give her more attention. This is also one of the last two cards to have her name on it. I moved to Seattle recently and have not attended anymore events with Rev. Hoyt. Could this have been her way to tell me that 'now is definitely the time?' I've started my first book and looking forward to putting it out there!!!
---
Nov. 2014
2 nights of card circles
Friday night's circle. I was told this was Dr. Vilicki. More to come about what was said this night...
Back of Dr. Vilicki's card
Abraham Lincoln (needs no explanation), Moose (my Dad), Daisy, Mother Mary, St. Catherine, Dr. Vilicki, Jerry Hicks, Chief Cochise, Metatron
---
Saturday night's card. Nov. 2014
Daisy (my Joy guide) as an older woman.
Back of Daisy's card
Blue Cloud, Daisy, Dr. Vilicki, Babaji, Shah Jahan, Chief Cochise, Moose Bergonzi, Anne Frank. Update Oct 2015: I've recently found some very interesting information regarding Abe Lincoln and Sri Babaji. Stay tuned for more. I have always believed there was more information coming from the world of spirit for me. There is an order to all things. In due time...sooner than you think.